4th Halal Slice starts from family seminars completed.
16th International Halal Certified Auditor Training completed.
15th Musiad Exhibition
Australian Al-Iman Association has visited GIMDES.
Musiad Halal tourism commission has invited GIMDES.
  Halal Slice starts from family
Families are the basic, foundational social units in all human communities around the world, and healthy individuals within healthy families are at the core of a heathy society. As GIMDES, we have consistently taken into account to increase awareness of Halal slice. So, we have arranged 4th family training. The training was taken in GIMDES center conference saloon, and I finished on 22 November.
In the last day of the training GIMDES Lead Auditor and Food Engineer Hayreddin Isbilir mentioned on food additives and their usage. GIMDES Lead Auditor and M.Sc. Murat Sayin gave a presentation about Halal cosmetics.
   International Halal Certified Auditor Training
16th International GIMDES Halal Certified Auditor training has done. Various participants from different countries such as from Azabaijan, Kazakhistan, Cyprus has been attended this important training.
   GIMDES was in the MUSIAD Exhibition
GIMDES has been in the MUSIAD exhibition. GIMDES has opened a booth in the 5th Hall of the exhibition with the sponsor of 12 GIMDES Halal Certified companies. The sponsor companies are Er Pilic, Beyza Pilic, Lezita, Aksu Vital, Galetas, Inka Zeytinleri, Alpedo Ice Cream, Afia Gida, Meysu, Irmak Gida, Karya Kozmetik, Faber Kimya, Dosu Maya. We thank you all of them.
   Halal Tourism Workshop with MUSIAD
The executive committee president of MUSIAD service sector Mr. Muhammet Ali Ozek has invited GIMDES committee for discussing on Halal Tourism.
GIMDES President Dr. Huseyin Kami Buyukozer said that "this topic had mentioned on different platforms in various countries. However, many service suppliers just want to provide Halal tourism or Halal concept with a tiny update of western type accommodation. At the same time, GIMDES Halal Tourism Standards has a real Halal and Tayyib accommodation."
"Traveling must be suitable for prayer times. Accommodation places must be arranged according to Shariah. Qibla director and prayer blankets must be available in the rooms. The staffs must be dressed accordingly Islamic faith. Alcohol must strictly avoid. The menu must be prepared by Halal Certified materials, and the guidance in tour activities must be served according to Islam."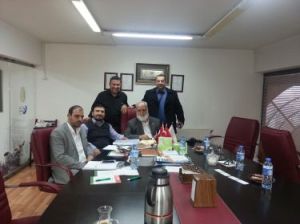 Australian Halal Certification Foundation has visited GIMDES
Executive committee President of Al Iman Amer Ahmed has visited GIMDES.
Al Iman Australia Foundation President Mr. Amer Ahmed has made a meeting with GIMDES President Dr. Huseyin Kami Buyukozer to make cooperation.
GIMDES President Dr. Huseyin Buyukozer mentioned that GIMDES is ready to make cooperation with all Muslim brothers to make Halal certified products available and common all over the world.