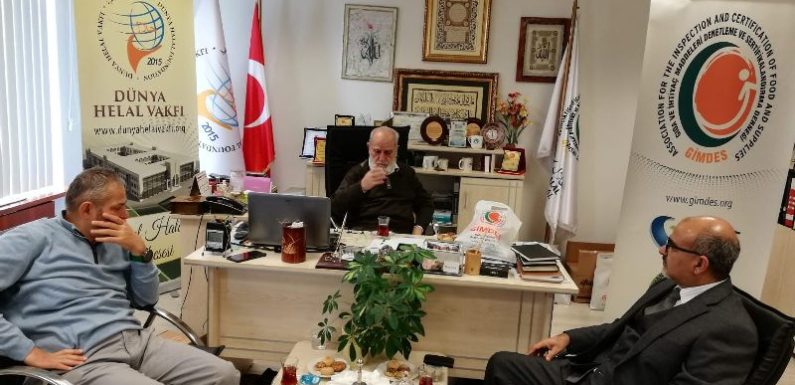 Japan is a country with a huge industry and economy. The first delegation from Japan visited GIMDES on 31.10.2009. Then in March 2015 a Japanese consultation company visited GIMDES for arranging Halal training for the companies whcih want to get Halal Certification in Japan. Later that in same year, a delegation from Japan foreign trade organization in Istanbul visited GIMDES.
Halal life, halal product wraps the whole world. The interest to Halal in Japan become more close. The first Halal Summit in Japan took place in Tokyo, Japan in August 2014. The summit organized by Halal Development Foundation of Japan themed ''We Connect Islam and Japan'', and GIMDEs was invited as guest spaeker. Now the president of an important Halal association from Japan ''Nippon Asia Halal association (NAHA) Dr. Saeed Akhtar'' visited GIMDES.
Dr. Aktar said that I have been following GIMDES for 10 years and I had great admiration. I finally had the opportunity to do this visit.
Causes of Japan's Interest in Halal Product
Because of The 2020 Summer Olympics in Tokyo /Japan, the Japanese government, governmental and commercial institutions have been involved in Intensify efforts to achieve huge gains from this activity. Food producers, hotels and restaurants have already started the services to produce halal products, halal hotels and halal restaurants, and they started Halal training activities.
Because of increasing the number of Muslims coming to Japan and because of decrease of the demand due to the economic crisis, Japan government looking for an additional resources. So Jappan look to Halal market positively. Now there are hotels got the halal certificates, these hotels are given general information about Islam, after the condition for preparing Halal food for Muslims
The meeting attnded by President of NAHA Dr. Saeed Aktar, GIMDES President Dr. HKBÜYÜKÖZER, and WHC President, Zafer GEDIKLI and R & D Coordinator Dr Majed ALHARIRI. During the meeting, GIMDES explain the about the importance of the Halal and Tayyib certification system.