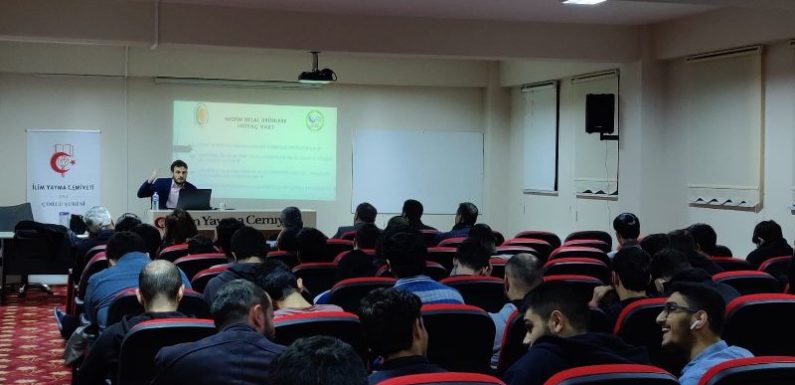 GİMDES has delivered a conference on "Quality Control Systems and Halal Certification" in Çorlu by the invitation of İlim Yayma Cemiyeti Şaban Gürdoğan Higher Education Male Dormitory. Abdülhamid Aksel, a chief auditor of GİMDES, was the speaker of this conference.
In this conference, which lasted approximately two and a half hours, the differences between the quality systems and the Halal certification system and the superiority of the Halal certification system over all other quality systems were explained by providing Ayats and Hadith that the Halal certification system should not only look at Halal but also Tayyib aspect of products. Allah commands us to eat Halal and Tayyib products in many parts of the Holy Qur'an. For a product to be Tayyib, it must be produced under clean and hygienic conditions. In addition, it should not contain any harmful substances (pesticides, heavy metals, parabens, etc.) and microorganisms (e-boxes, coliforms, salmonella, etc.). The trade must also be clean. For this reason, it is informed that adulterated products will never be approved by following our Prophet's (SAW) guidance: "Whoever deceives us is not one of us."
Animal-based and risky products for health, which are used in foods (mono-diglycerides, MSG, gelatin, cysteine, nitrites, aspartame), animal-based and risky inputs for health in cosmetics (such as argan oil made from argan seeds from goat feces, placenta, carmine dye, porcine collagen, SLS, Parabens, triclosan) and animal apparatus used in medical sector animal origin vein grafts, pig-borne vaccines, animal-derived heart valves were explained in detail.