Halal Dunya Markets Avclar Branch has opened with Qu'ran recitation and Prayers
All praise to Allah; Turkey's honors (Halal Dunya Markets) number is increasing and run for the services to Ummah for Halal and Tayyib products. Avcilar Branch also added to this auspicious competition. The location is very easy to reach and the environment is very green. In the opening of branch, many sincere people has attended and GIMDES President Dr. Huseyin Kami BUYUKOZER has cut the tape.
Halal Market Union President was in this opening. In the opening, Dr. Huseyin Kami Buyukozer has explained the importance of Halal products. Additionally, as conscious Muslims, we need to support these markets which serving as gather all GIMDES Halal Certified products.  We request auspicious and abundant gain from Allah (SWT) to Market entrepreneurs Mr. Ahmet and Mr. Cengiz.
Address: Cihangir Mah. Karınca Sok.No.23 (Cihangir Camii) karşısı, AVCILAR / ISTANBUL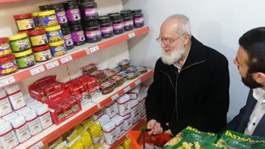 About The Author
Related posts