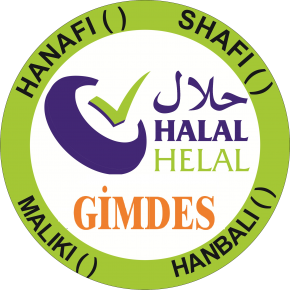 GIMDES is born as a result of necessity. The main aim is to search for halal and healthy food for Muslim consumers and provide halal certificate for those products as an assurance for both market and consumers. Halal Certification procedure will comply with the laws in order to insure there will be no misconduct of the brand, name and the aim of this association.
GIMDES defined its goals as following:
The aim of this foundation is to help individuals and the communities gain awareness on the nourishment, cosmetics, medicals and cleaning products etc. that they are consuming in their daily lives. Furthermore, inform those individuals about the relations of these products with their believes, health and life styles. In order to achieve this goal, the scope of the activities is defined as to make all necessary studies, develop projects to private and governmental organizations, and organize public seminars, all kinds of social and cultural events in order to create individuals and communities with consciousness. While working hard to organize these activities, the motivation behind all this is defined as "all these activities, events and organizations should have one major goal: creating control and inspection standards to certificate the products".
One another aim is to support those individuals who have projects on "Nutrition, medical, cosmetics and cleaning products", those individuals who would like to produce products complying with halal standards, Another aim is to disclose those individuals or organizations whose aim is to stop or barricade other individuals gaining self consciousness hence protect the community from those people. Another aim is to make the all efforts needed to reveal the facts and support the individuals who would like to contribute.
Last but very crucial aim is to implement and organize any efforts towards halal certification standards for nutrition, medical, cosmetics, cleaning and any other products that would be added to this list in the future. GIMDES will carry out all kinds of halal certification as part of its duties.
Dr. Hüseyin Kami Büyüközer
President