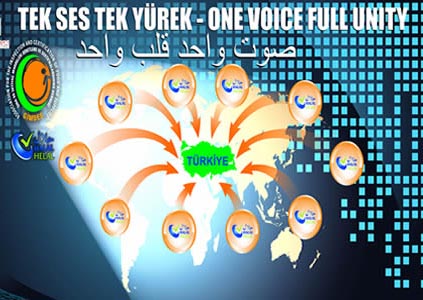 GIMDES volunteers from Europe have established a firm called "HALAL WELD GMBH" in order to bring GIMDES Halal and Tayyib certified products to Europe and to the Muslim brothers and sisters living there.
Under the flag of this firm, a committee from Germany has arrived in GIMDES HQ and has been meeting with various Halal and Tayyib certified firms from 24 to 30 December 2020. (GIMDES does not engage in any trade relations and just serves as a bridge between the two parties without any profit).
As a first, the aim of the firm is to distribute those products to 500 markets and showrooms in Germany, Holland and Belgium.
The meetings have been finalized successfully and the results seem satisfying for both parties.
The participant firms as follows:
Day 1-2
SUNUM GIDA, YEŞİL MERSİN BAKLİYAT, SAYGIN GIDA, İSAR GIDA(NURÇAY), SABİRE KOZMETİK, EMSAY GIDA(YEŞİL MARKA), TATŞEN PAZARLAMA, RAST GRUP(HURMATAT), KOPUZ ZEYTİNCİLİK (ŞEMS ZEYTİN), LAÇİN TATLILARI ATİYE LAÇİN, ÖĞÜT ORGANİK TARIM ÜRÜNLERİ, GÜLMARKA, GÜNEYCE PAZARLAMA (AGARTA COSMETIC), UĞURLUOĞLU BİTKİSEL AROMATİK YAĞLAR, SANSET Gıda (Tadelle- Pernigotti), FORTE Gıda (Ancora pekmez, honey, sherbet), LİMSAK (Lemon-garlic cure), GÜVENASA (Olive oil), FİSKOBİRLİK (Hazelnut paste, hazelnut and etc.), NURÇAY, HURMATAT (Date juice / molasses, Turkish delight with date), ŞEMS Olive, KAYLA Olive oil,
Day 3
HERMUS GIDA (Damdam popcorn, chips), ACICIK ÇİĞKÖFTE, ALTINBAŞAK DAĞITIM (Cosmetic and Personal Care Products), HAŞİMİ HEDİYELİK EŞYA (Cosmetic and Personal Care Products), 7K KİMYA İLAÇ SANAYİ GIDA (Cosmetic and Personal Care Products), FAİDA GIDA İLAÇ SAN. VE TİC. A.Ş, MİLAT ÇİKOLATA ŞEKERLEME SAN TİCLTD ŞTİ, BRS GIDA ÜRÜNLERİ SAN VE TİC.LTD.ŞTİ ( Spicies), YAZICIOĞLU BAKLAVALARI
Day 4-5
SEÇ SALÇA KONSERVE VE SAN TİC.LTD.ŞTİ, İRFAY GIDA ( İrfa steak tartar a la turca) ASİLNUR GIDA VE KİMYA SAN.TİC.LTD.ŞTİ ( Cleaning and Cosmetic Products), SEYYİDLER OTOMOTİV GIDA SAN.VE TİC.LTD.ŞTİ ( Seykur Turkish delights, cezerye ), GÜL MANTI VE KURABİYE, TATLAN PAZ.GIDA SAN.TİC.LTD.ŞTİ (Tahini and tahini halva varieties), FABER KİMYA İLAÇ SAN.TİC.LTD.ŞTİ (Faber Naturex Temizlik Ürünleri), İNCİ SİRKE WOLF GIDA PAZ.TURİZM SAN.İÇ VE DIŞ TİC.LTD.ŞTİ , NURCEVHER DONDURMA VE TATLI, BAMBU TATLILARI, ANAVARZA BAL
43  firms have joined the meetings with 65 representatives in GIMDES HQ while 11 firms joined via online meeting, which are as follows:
ELİTA Gıda (Sunar oil), MEYSU Gıda San.ve Tic.A.Ş, PAK Gıda (pakmaya), AKYEM Gıda ( Hamzaefendi) ÖMEROĞLU Tarım Ürünleri , GÜRSOY Tarımsal Ürünler, NATURALİVE (Cleaning and Cosmetic Products), BEYDA Gıda Ürünleri, BALEN-Arı Mühendislik (Aromatic Oils), İKSAT Gıda (Aluçdağı Spicies), MADEVA İlaç San.ve Tic.A.Ş (Apideva).
We pray Allah (SWT) to make these meetings and negotiations Khair for all the brothers and sisters in Europe as well as for all the Ummah.